Why choose Special Missions for General Safety
Special Missions for General Safety is one of the specialist in Safety and Health in Jordan. We have the expertise and products to offer all buildings a great fire fighting system. Our Est. has the following accreditation: Occupational Health & Safety Standards (OSHAcademy USA). (International College in London)
Our range of fire fighting systems for buildings is unmatched and to be ensure that your building is not only protected from fire but trained individuals able to deal quickly with fires.
All services offered by Special Missions for General Safety are available for you. We have an after-sales program which includes servicing, spare parts, and training to ensure consistence in quality and that your building is protected at all times.
What is personal protective equipment?
Personal protective equipment, commonly referred to as "PPE", is equipment worn to minimize exposure to hazards that cause serious workplace injuries and illnesses. These injuries and illnesses may result from contact with chemical, radiological, physical, electrical, mechanical, or other workplace hazards. Personal protective equipment may include items such as gloves, safety glasses and shoes, earplugs or muffs, hard hats, respirators, or coveralls, vests and full body suits.
What can be done to ensure proper use of personal protective equipment?
All personal protective equipment should be safely designed and constructed, and should be maintained in a clean and reliable fashion. It should fit comfortably, encouraging worker use. If the personal protective equipment does not fit properly, it can make the difference between being safely covered or dangerously exposed. When engineering, work practice, and administrative controls are not feasible or do not provide sufficient protection, employers must provide personal protective equipment to their workers and ensure its proper use. Employers are also required to train each worker required to use personal protective equipment to know:
When it is necessary
What kind is necessary
How to properly put it on, adjust, wear and take it off
The limitations of the equipment
Proper care, maintenance, useful life, and disposal of the equipment
If PPE is to be used, a PPE program should be implemented. This program should address the hazards present; the selection, maintenance, and use of PPE; the training of employees; and monitoring of the program to ensure its ongoing effectiveness.
Personal protective equipment is addressed in OSHA standards.
OSHA requires that many categories of personal protective equipment meet or be equivalent to standards developed by the American National Standards Institute (ANSI).

CCTV Systems
Our camera CCTV systems are designed to be easy to install and come with everything that you need for a complete cctv system. Each system has many optional upgrades. All CCTV systems include 8 security cameras, a DVR, power supply box, and all cables and connectors for a complete installation.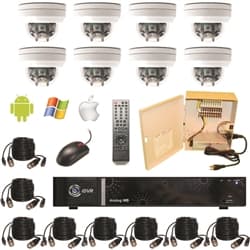 Fire Fighting System For Building
Is your building protected from the risk of fire? If you have answered no, Special Missions for General Safety provides a fire fighting system for building service that will improve the safety of your building. From fire doors, fire fighting equipment to passive fire protection, Special Missions for General Safety will ensure your building is protected from fire.
Special Missions for General Safety supplies effective fire fighting systems for buildings of all sizes and types. We will customize all fire fighting systems so that they provide your property with the highest level of fire protection. Special Missions for General Safety will survey your property and work with you to ensure that our building fire fighting systems meet your requirements.
Fire fighting equipment
Special Missions for General Safety  supplies fire fighting equipment like hoses, reels cabinets, fire hydrants, valves and risers for buildings that will save lives and reduce the effects of fire in your building. Our certified range of fire extinguishers can be used to tackle all types of fires like wood, paper, chemical and more.

Fire protection systems
Fire protection systems are an investment that has many benefits for your property. At Special Missions for General Safety, we supply a huge selection of fire protection systems that will suppress fires quickly.
Fire doors
Fire doors play an important in a successful building fire fighting system. Special Missions for General Safety supplies fire doors that will help reduce the spread of fire within your property. We supply the following types of doors:
Extra low voltage solutions
Our extra low voltage solutions have an important part to play in a fire fighting system for buildings. Special Missions for General Safety will supply fire detection and notification systems, battery operated detectors, gas detection, voice evacuation system and emergency lighting systems.
Fire pumps and controllers
To fight fires quickly, fire pumps and controllers are one of the most efficient firefighting systems a building can have. NAFFCO's fire pumps and controllers will make all the difference in fighting fires.
Passive fire protection
In addition to our active fire protection systems for buildings, we provide passive fire protection for properties which will complement our active fire fighting system. Popular methods include fire retardant paint, fire and smoke curtains and fire walls.
Projects
In the past, Special Missions for General Safety has improved the safety of many properties with our fire fighting systems installation.
Emergency Lighting 
Contact us
Don't let fire threaten your property contact Special Missions for General Safety today for the best fire fighting system for buildings today.
Fire Alarm Systems
Fire extinguishers
Surveillance cameras and DVD devices
Machinery and equipment protection from theft
Fire Protection doors
Lights and lamps, and the significance of the fire exits
Fire extinguishers all kind
Professional clothing of all kinds and uniforms (Personal Protective Equipment's)
Safety Shoes
Signs